Magik 5 Tattoo Shop, 600 W Prospect Road, #1C - Oakland Park, Florida 33309
About: Versatile artist ranging from realism to Oriental and illustrative style tattooing.
Appointment Process...
Set up a free consultation with me by clicking "Request A Consultation". We will schedule a time to meet for a creative brainstorming session where we can explore your vision, and exchange ideas for design.
Once a deposit has been initiated, I go to work and the process of sending you designs and collaborating for final outcome begin. Once the final draft is agreed upon, a date may be set to get you inked!
Awards
Best Tattoo Artists In Fort Lauderdale 2017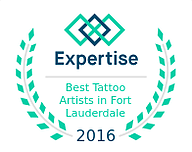 Tattoo Artist Miltonlzd Portfolio
See My Tattoo Art OnInstagram!