Magik 5 Tattoo Shop, 600 W Prospect Road, #1C - Oakland Park, Florida 33309
About: Color, realism, detail, and proportion are predominant traits of Jose's style. His thematic preferences range from portraiture to nonreligious symbolism; rendering preferences from neo-traditional to painterly (geometrical and stippling not be ruled out). Besides tattooing, his favorite mediums are oils and acrylics on canvas, and digital painting. He has been tattooing since 2007. Jose's other interests lie in the sciences and humanities. .
Appointment Process...
Set up a free consultation with me by clicking "Request A Consultation". We will schedule a time to meet for a creative brainstorming session where we can explore your vision, and exchange ideas for design.
Once a deposit has been initiated, I go to work and the process of sending you designs and collaborating for final outcome begin. Once the final draft is agreed upon, a date may be set to get you inked!
Awards
Best Tattoo Artists In Fort Lauderdale 2017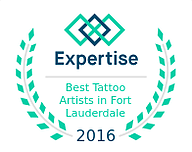 Tattoo Artist Sandroz Portfolio
See My Tattoo Art OnInstagram!